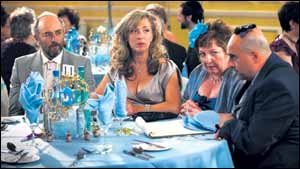 SIMCHA JOY: Mahmud, right, wears a burned yarmulke at a barmitzvah
Click here to watch trailers & clips...
THE INFIDEL (15)
IT had all the hallmarks of a disaster. Muslim man discovers he is Jewish - a one-joke film, a definite flop.
But there are three things that the critics never counted on.
* David Baddiel's intelligent script.
* Omid Djalili and Richard Schiff's star qualities.
* Josh Appignanesi's non-intrusive direction.
In anyone else's hands this could just have been a reworking of Leon the Pig Farmer.
But Baddiel has crafted a wonderful script which doesn't demonise either religion and will also appeal to non-Jews and non-Muslims.
Djalili, currently starring in the most excruciatingly bad adverts on TV, plays relaxed Muslim Mahmud Nasir.
While emptying the home of his recently-deceased mother, he finds his birth certificate and discovers that he was adopted - and his real name is Solly Shimshillewitz.
And his son Rashid (Amit Shah) is about to marry the step-daughter of Muslim extremist Arshad El Masri - played by Israeli actor Igal Naor.
Mahmud/Solly turns to black cab driver Lenny Goldberg (Schiff) to turn him into a Jew.
There are some wonderful set-pieces including Mahmud's over-the-top antisemitic jokes with his Muslim colleagues after he discovers the truth about his roots.
And the scene where Lenny tries to teach Mahmud how to 'Oy vey' in true Jewish style is a joy.
There is also the chance to play spot the cameo as the cream of British actors pop up on screen for short periods. David Schneider, Miranda Hart, Tracy-Ann Oberman and Paul Kaye all contribute to the laughs.
The only negative was Matt Lucas, wrongly cast as a rabbi.
Appignanesi told audience members at the Jewish Telegraph's special screening of the film on Wednesday that he didn't have to do much directing because of the quality of the script and cast.
But he is doing himself a disservice. It would have been quite easy to make a pig's ear out of the film. Yes, it was a great script. Yes, all the actors were superb.
But, Appignanesi knitted everything together to produce a film that will get people discussing important issues while having a good laugh.
MIKE COHEN