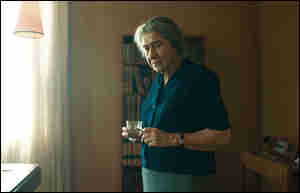 Helen Mirren as Golda Meir
Photo: Jasper Wolf
DAME Helen Mirren has been transformed into an incredible likeness of Israel's first female prime minister Golda Meir for a new film. Production has started in London on Guy Nattiv's Golda.
Camille Cottin, star of hit Netflix series Call My Agent, has also joined the cast as Meir's personal assistant Lou Kaddar.
Written by Nicholas Martin, Golda shows the controversial decisions that Meir faced during the Yom Kippur War in 1973. Her actions, in impossible circumstances, would ultimately decide the fate of millions of lives.
"Golda Meir was a formidable, intransigent and powerful leader. It is a great challenge to portray her at the most difficult moment of her extraordinary life," Dame Helen said. "I only hope I do her justice."
Oscar-winning director Nattiv is delighted to have cast the British actress.
"She has melted so brilliantly into Golda Meir's character with incredible talent, intelligence, depth and emotion, doing justice to the richness and complexity of this incredible woman," said Nattiv, who won best short film at the Academy Awards for Skin in 2019.
Rami Heuberger will portray Meir's Minster of Defence Moshe Dayan.
---
If you have a story or an issue you want us to cover, let us know - in complete confidence - by contacting newsdesk@jewishtelegraph.com, 0161-741 2631 or via Facebook / Twitter