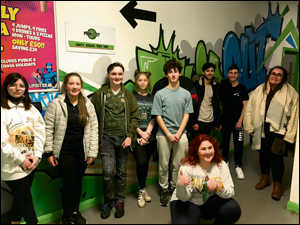 FLORIDA SUNSHINE: Some of the UK and Ireland BBYO delegation enjoy a dip in the sea in Orlando during the international convention.
TWO Manchester teenagers were part of the UK and Ireland delegation to the BBYO international convention in Orlando this week.
Manchester BBYO president Matthew Buchalter and the chapter's social action and causes officer (SACO) Evie Smith joined up with 3,000 other members from 36 countries.
The UK delegation grew from seven last year to 13 this year, accompanied by university students Lara Restan, of Dublin and Rob Angel, both former national presidents, as well as movement worker Adam Nickels and executive director Kira Blumer.
National president Ethan Honey and Jodie Godfrey, national SACO, were on a panel with a few teens from "global communities" to give the directors and philanthropists a clear sense of what BBYO looks like internationally.
The two Londoners spoke with teens from the former Soviet Union, Argentina, and Americans.
One of the highlights of the convention was an address by Olympic gold medalist Aly Raisman.
The gymnast, who has been in the news recently because of the sexual abuse by former gymnastics team doctor Larry Nassar, said she drew strength from her Jewish upbringing.
"Being Jewish is all about family and I think being Jewish is all about being a good person," she said. "I have so many amazing memories of being with family during the Jewish holidays."
The 23-year-old alluded to her abuse by Nassar — who was sentenced to 40 to 175 years in prison for molesting more than 150 women and girls over two decades.
"Everyone is a survivor of something no matter what it is," she said. "There are many people out there who have bravely spoken up about their stories of abuse, but there are many people who are also suffering in silence."
She said anyone suffering should speak out.
"We live in the social media age where I'm sure most of you guys have Instagram or Snapchat or Twitter," she said. "Social media is great . . . but it's also tricky because social media, we only want to show the bests sides of ourselves."
Other speakers were Michael Signer, the former mayor of Charlottesville, Virginia, who is Jewish, and Susan Bro, the mother of Heather Heyer, the counterprotester who was killed by a white supremacist during protests in the Virginia college town last summer.
Also addressing the convention was Jason Kander, the former secretary of state of Missouri and US army intelligence officer.
Kander now directs a get-out-the-vote operation for Democrats. He said that he had been advised by others in the military — including Jewish troops — not to reveal he was Jewish in Iraq.
Kander said he now feels embarrassed that he kept the fact he was Jewish from his interpreter, Salaam, until he was about to finish his tour.
"I had never had a Muslim friend I was as close to as I was close to Salaam," he said.
He was surprised to learn that Salaam knew all along that Kander was Jewish.
"Back home in Kansas City, my sister cuts your grandmother's hair," Salaam told Kander.
Other speakers discussed Israeli voluntarism and assistance in disaster relief overseas, and Israeli innovation.