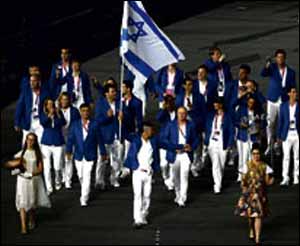 WE CAN BE HEROES: Israel's Shahar Zubari -son of 1972 hero Gad Zubari carries the flag during the opening ceremony last Friday
ALTHOUGH close to four hours in length, last Friday's opening ceremonies for the London Olympics ignored the 11 Israeli athletes and coaches killed by Palestinian terrorists at the 1972 Games in Munich.
Nevertheless, more than 20,000 people at various venues in London on Friday attended the British Zionist Federation's 'Minute for Munich' programme that was promoted via social media.
A short memorial service at the Israel Embassy - organised by the British Zionist Federation - was streamed live online, where chairman Harvey Rose lashed out at the International Olympic Committee for its decision.
"Shame on the IOC for not appreciating and recognising what the Olympics is all about," he said. "Shame on the IOC for its clear anti-Israel bias."
Around 200 people marked the Minute for Munich in London's Trafalgar Square, reciting memorial prayers and lighting memorial candles.
Afterwards, they waved British and Israeli flags in front of media outlets covering the event.
"The British Jewish community is showing its solidarity with our brothers and sisters in Israel," the British Israel Coalition's Ari Soffer told the crowd.
"We should not allow this tragedy to go uncommemorated. This is a time to show our respect and remember the dead."
The families of the victims mounted a global campaign for an official IOC moment of silence at the Games.
The IOC continued to reject the call despite its endorsement by the Israeli government, US President Barack Obama, Republican presumptive presidential nominee Mitt Romney, the US Senate, the German Bundestag, the Canadian and Australian parliaments, around 50 MPs and many Jewish organisations worldwide.
Israel's Culture and Sport Minister Limor Livnat said she would stand at the Games' opening ceremony to protest the IOC's refusal.
As the 37 Israeli Olympians marched in during the opening ceremony, BBC commentator Huw Edwards mentioned the massacre in Munich.