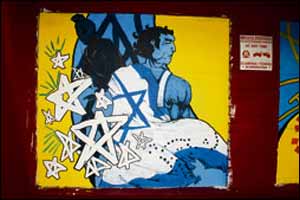 THOUGHT-PROVOKING: The panel depicting Israelis at 1972 Games
ARI NORMAN'S family lost around 600 members during the Holocaust.
His grandfather, Lieb Nussbaum, was murdered at Auschwitz and this background has made him and his family socially aware of injustice and racial prejudice.
So much so that Ari, whose company designs and manufactures sterling silver gifts, tableware, watches and jewellery, has commissioned an urban art project on the walls of his building in Wembley.
The panels depict the 11 members of the Israeli Olympic team who were murdered by Arab terrorists in 1972, the Black Power salute given by Tommie Smith and John Carlos at the 1968 Olympics and the triumph of African-American Jesse Owens at the 1936 Berlin Olympics.
"I wanted to do something like this for two years," Ari, 65, told the Jewish Telegraph.
"My son Lee runs a company which I commissioned to carry out the project .
"His company produces socially aware fashion and supports young talent in music and art.
"I believe in the true original sprit of the Olympics of fair competition among all races and all nations.
"Unfortunately the issue of race and equality becomes very clouded in the politics of the Olympics.
"So we chose to commemorate three Olympiads at which racial strife was highlighted."
Ari's son enlisted an artist, Abe Sesay, to create the panels, which took him two months to complete.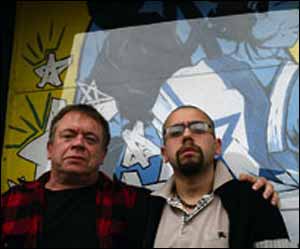 LINK-UP: Ari Norman with son Lee

Ari said that people stood outside for hours watching Abe complete his artwork.

"We are planning to put up plaques, each with individual notes, to explain to people what the panels are about, in case they don't know," he added.

He is also planning to install lights above the panels so they will be on display 24 hours a day.

"We believe that they will contribute not only in social sense but also in a visual sense, to the benefit of the community," Ari said.

He also believes that the events depicted on the panels are something which need to be remembered and not put aside.

"I do not understand why the International Olympic Committee refused to hold a minute's silence for the murdered Israeli athletes," Ari added.

"It is a perfectly reasonable request and I think it was turned down for political motives.

"The IOC has representatives from more than 44 Arab states, so I didn't think there was much chance of a request going through."