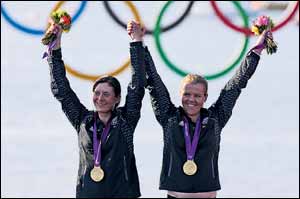 TRIUMPH: Jo Aleh, left, and Polly Powrie celebrate their gold
ISRAEL returned from London 2012 with no medals.
Yet one gold medal is heading to the country.
New Zealand sailor Jo Aleh won gold in the women's 470 regatta with partner Polly Powrie last Friday.
And the 26-year-old, whose parents are dual Israeli-New Zealand citizens, is heading to Israel for her half-sister Shefa's batmitzvah celebrations.
"I thought even silver was a pretty big deal, but it's pretty awesome to bring back a gold medal," Jo said, "because no New Zealand woman has ever won a medal in a sit-down boat.
"So I'm sitting down and we've got one now."
Aleh, a former national champion and 2007 world champion, finished seventh at the Beijing Olympics in 2008.
Meanwhile, American-born Israeli David Blatt won a bronze medal as coach of the Russian men's basketball team.
The Maccabi Tel Aviv coach saw his team win 81-77 against Argentina in the third-place play-off.
Blatt dedicated his medal to Israel.
He said: "I am a product of Israeli sport.
"I offer this medal to everyone. As a child I used to watch American athletes on the podium and wanted to be one of them."
Blatt, who was born in Boston, moved to Israel after helping America win gold in the 1981 Maccabiah Games.
Israeli and US citizen Sue Bird scored 11 points as America's women's basketball team won its fifth consecutive gold medal on Saturday.