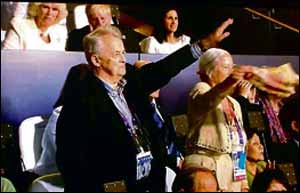 DEVASTATED: Walter Tröger salutes the German squad watched by Camilla, Duchess of Cornwall, and Lord Mayor of London Boris Johnson
SPORTING commentators have leapt the defence of a German member of the International Olympic Committee after he was accused of performing a Nazi salute at the London Games' opening ceremony.
Walter Tröger was in the stands at the Olympic stadium during Danny Boyle's spectacular display.
As the German team entered into the 80-000-seater arena, Mr Tröger was caught on camera repeatedly extending his left arm back and forth, drawing criticism from German media.
While Hitler and the Nazis used their right arm to display the notorious gesutre, German newspaper Der Tagesspiegel accused Mr Tröger of sending the nation back to "Berlin '36", in a reference to the games overseen by Hitler.
The newspaper wrote: "Even if it was only the left arm - a touch of involuntary Berlin was in the London opening ceremony air.
"The greeting of yesterday was brought back to the present."
However, defenders of Mr Tröger suggested that he has a track record of helping Germany recover from its Second World War legacy.
They pointed out that as mayor of Munich in 1972, he offered himself in exchange for the Israeli hostages taken by Palestinian terrorists.
In 2004, he complained to an IOC meeting about Germans wearing t-shirts reading: "Blitzkrieg - it's only a game".
A spokesman for the German Olympic Sports Federation decried any Nazi association: "He's been standing all his life for tolerance, understanding and fair play."
While an IOC spokesman claimed: "I can't think of anyone who is less antisemitic than him.
"He is devastated that it was interpreted in this way."