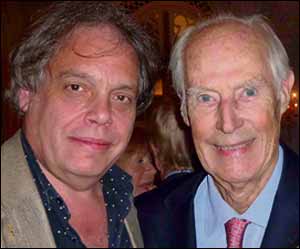 LEGENDARY: David with Beatles producer Sir George Martin
DAVID Stark regularly uses the words 'lucky' and 'chutzpa' to describe his 50 years in the music industry.
But, speaking to the affable Londoner, it is quite clear that he has an intricate knowledge, as well as a passion, for all things music.
After all, luck and chutzpa will only get you so far.
David is the founder of SongLink, one of the most acclaimed and widely-used tip sheets for publishers around the world.
He is also a Companion of the Liverpool School of Performing Arts, a Blue Plaque initiator and an accomplished drummer, among other things.
But there is no doubting that his most fervent interest is The Beatles, having been wowed from the moment he first heard the Fab Four on Alan Freeman's Pick of the Pops.
"I can even remember the date — January 10, 1963," David told me from his home in north London.
"At the time, I was a fan of Cliff Richard and The Shadows, who were a four-man group and all nicely suited, but The Beatles, with their mop tops and great personalities, were amazing.
"They just sounded so different to anything that I had heard before.
"The songs were brilliant, too, of course — I mean, what was there not to like?"
David's lifetime commitment to The Beatles is explained in his book It's All To Much (This Day in Music Books, Ł14.99).
He was fortunate enough to meet his musical heroes numerous times, which he recalls in the book.
To read more on this story, subscribe to our new e-edition. Go to E-edition.jewishtelegraph.com.
---
If you have a story or an issue you want us to cover, let us know - in complete confidence - by contacting newsdesk@jewishtelegraph.com, 0161-741 2631 or via Facebook / Twitter