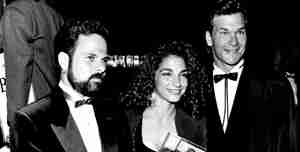 NOSTALGIC: Stacy Widelitz and Patrick Swayze with pop star Gloria Estefan at the 1988 BMI Awards
THERE was a moment, a number of years ago, when Stacy Widelitz reflected on the success of his career in music.
The man behind She's Like the Wind, the hit single from blockbuster film Dirty Dancing, was contacted by a woman who had cancer.
"Her husband told me that the only album she wanted to listen to while going through chemo was the Dirty Dancing soundtrack," Stacy told me from his home in Nashville, Tennessee.
"When they found out she was in remission, they set up the stereo outside and danced to She's Like the Wind.
"It was then that I thought, 'okay, I accomplished something because I created — or helped create — something enduring that has touched people in ways that I never could have imagined'."
Stacy — who was a close friend of Dirty Dancing star Patrick Swayze — admitted he was too engrossed in his work at the time to sit back and think about his achievements.
He said: "I was ambitious and I wanted to keep moving. I also had all these people, unfortunately, in my ear saying, 'oh, this is such a great opportunity for you to build upon this'.
"There are moments of enjoyment while it is going on, but when yI look back on it, I wish I could have enjoyed it all and taken a month off, just gone to Europe and had a wander round, and had fun.
"That did not happen until later."
Stacy spent 19 years in the hustle and bustle of Los Angeles, before choosing a more sedate lifestyle in Nashville.
It was in LA that he honed his craft as a composer for numerous films and television series.
However, his life may have turned out extremely differently had it not been for his older cousin Seth.
Born in Plainview, Long Island, the son of Pauline and Paul Widelitz, Stacy wanted to learn cello, but was assigned the flute at school. And he could not make head nor tail of the instrument.
"My music teacher was becoming increasingly frustrated with me and I was frustrated," said Stacy, who is of Polish, Belarusian and Lithuanian heritage.
"With the flute, it's only one staff, the treble clef. Everything was based on fingerings rather than some sort of logical layout.
"After about a month, he sent me home with a note to my parents saying, 'please return Stacy's flute as he has no musical ability whatsoever'.
To read more on this story, subscribe to our new e-edition. Go to E-edition.jewishtelegraph.com.
---
If you have a story or an issue you want us to cover, let us know - in complete confidence - by contacting newsdesk@jewishtelegraph.com, 0161-741 2631 or via Facebook / Twitter