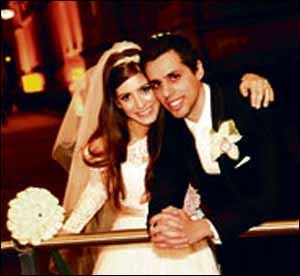 PICTURE: Stephen Milner
Deanna Gilman and Marc Ferster married at the Queens Hotel, Leeds.
Pharmacist Deanna is the daughter of Mandy and Jonny Gilman, of Leeds, while lawyer Marc is the son of Shelley and Stuart Ferster, of Hale, Cheshire.
Best men were Arron Ferster and Jonathan Jacobs, while ushers included Deanna's brothers Adam and Joe.
Bridesmaids were Leah Berke, Lucy Phillips, Tasha Rosenberg, Sarah Fearnley, Sophie Mourmouris and Sarah Wyatt. Grandparents Chaim and Nan Ferster together with Clare Sacks, of Manchester, and Mildred Sharpe, of Leeds, joined guests who travelled from Paris and Germany.
The couple, who met at a party in London, honeymooned in India and the Maldives, and are settling in London.
---
Couple met at JNF event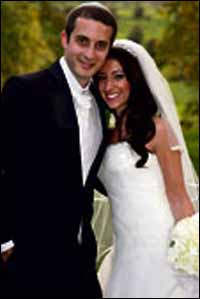 PICTURE: Ian Robinson

NICOLA PUNDICK and Oliver Basger have married three years after meeting at a JNF event.

The couple were wed at the Dukenhalgh Hotel, Lancashire, by Heaton Park Hebrew Congregation's Rabbi Daniel Walker and Yeshurun Hebrew Congregation's Rabbi Chaim Kanterovitz.

Nicola, a marketing account manager, is the daughter of Rae and Michael Pundick, of Whitefield, while chartered surveyor Oliver is the son of Michelle and David Basger, of Cheadle.

Best men were the groom's brothers Louis and Michael.

Maid of honour was Amy Weidenbaum and bridesmaids were Paige Basso, Natasha Williams, Sadie Margolis and Ariana Kidoushim.

Pageboys were Robbie and Harry Pundick.

Joining in the celebrations was the bride's grandmother Muriel Douek and the groom's grandmother Rita Basger, as well as guests from Australia, America, France, Switzerland and Israel.

After a honeymoon in Las Vegas, Maui, Honolulu and New York, the couple have settled in south Manchester.
---
It's love in first degree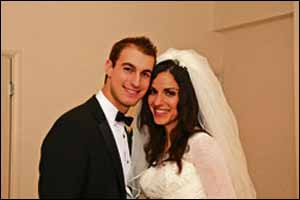 PICTURE: Alan Fish Living World Photography

FORMER King David High School pupil Warren Backman married Hannah Fhima at St John's Wood Synagogue, London.

Warren, a medical student at University College London, and Hannah, an IT consultant, wed in front of family and friends from Canada, France, Israel and America.

Warren, 23, is the son of Beverley and Maurice Backman, of Prestwich, while Hannah, 25, is the daughter of Elspeth and Meyer Fhima, of Borehamwood. They were married by Dayan Ivan Binstock. Best men were the groom's brother Gary Backman and Simon Schless. Bridesmaids were Michal and Tikva Levy and the flower girl was Isabella Fhima. Pageboys were Moshe and Gabi Fhima. The couple have settled in London.