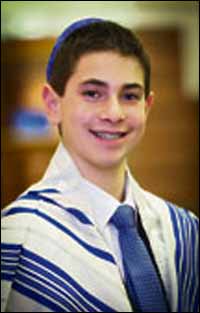 Picture: Howard Barnett
RUGBY League fanatic Adam Jackson was barmitzvah at the United Hebrew Congregation.
Adam, the son of Vikki and Simon Jackson, of Alwoodley, is a pupil at the Grammar School at Leeds.
He showed his support for Super League champions Leeds Rhinos with a blue and yellow theme at his celebrations.
Adam also enjoys karate and has reached Second Dan grade. He also likes Scrabble and word games.
Grandparents Anne Jackson and Diane and Ian Goldman, all from Leeds, great grandfather Bob Goldman from Liverpool and uncle Nick Jackson, of Toronto, joined family and friends at the simcha.
Adam has a 10-year-old sister Gabrielle, who also attends GSAL, and a five-year-old brother Joshua at Brodetsky Primary School.
---
BALLET enthusiast Hadassah Sultman celebrated her batmitzvah at Allerton Synagogue.
Hadassah, the daughter of Nicky and Elliot Sultman, is a pupil at Liverpool King David High School.
The Childwall youngster made a speech about her name and linked it with the past and the present.
Her brother David, 15, and 13-year-old sister Ruth are pupils at King David High School in Manchester.
Grandmother Naida Boher was also present.