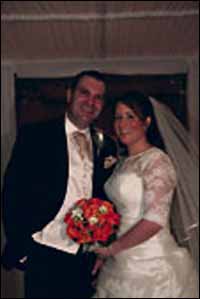 Picture: Warren Shaffer
LUCY COWEN and David Hass were married at South Manchester Synagogue, Bowdon, by Rabbi Dovid Lewis, after meeting in London.
Lucy, a teacher of English to Japanese children, is the daughter of Barbara and Philip Cowen, of Bowdon, while political specialist adviser David is the son of Avelyn and Sidney Hass, of London.
Best man was Dan Goldstein, of Los Angeles, maid of honour the bride's sister Amanda Curtis and bridesmaids the groom's daughter Abbie Hass and the bride's niece Olivia Cowen. Pageboy was the bride's nephew Josh Cowen.
Joining in the celebrations were guests from Israel, America and France.
After a honeymoon in South Africa in March, the couple will settle in London.
---
JAMIE Kaye celebrated his barmitzvah in style with a Sephardi-themed party.
The King David High School pupil read maftir and haftorah at Sha'are Hayim Sephardi Synagogue, Didsbury.
And he celebrated the occasion with a Moroccan-style party, alongside friends in family.
The son of Rina and Jonathan 'DOC' Kaye, Jamie is a passionate rugby fan. He plays for the school rugby team and Didsbury Rugby Club.
Older siblings Jordan, 18, and Lucy, 16, both King David High School students, joined in the celebrations.