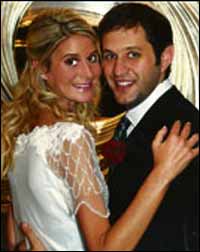 PICTURE: SHARNA KINSLEY
IT truly was a five-star occasion as Ric Berke, 32, married Candice Krieger at the Dorchester Hotel, London.
Ric, director of a financial recruitment company, is the son of ANNE and TONY BERKE, of Prestwich, while 29-year-old journalist Candice is the daughter of Geraldine and John Krieger, of London.
Best man was Andrew Showman with bridesmaid Millie Berke. Candice's grandparents Celia and Sonny Felber attended the simcha, along with guests from Israel and America.
The couple, who have settled in London, honeymooned in Mauritius and South Africa.
---
Love at J-Soc fair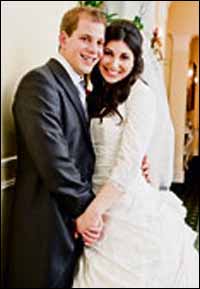 Picture: Charles Yacoub

THE north-south divide was united following the marriage of Leanne Bergen and Josh Kleiman at The Old Swan Hotel in Harrogate.

Leanne, a medical writer for a digital healthcare agency, is the daughter of Sandra and Lloyd Bergen, of Leeds, while Joshua, who works in operations for an oil brokerage, is the son of Susie and Michael Kleiman, of Edgware.

Best men were Alon Gordon and Daniel Moses, bridesmaids were Lisa Boonin, Cassie and Annalisa Bergen, Tamara Shaffner and Hannah Lacy.

Grandmothers Marlene Shaffner, of Leeds, Maureen Horwich, of Whitefield, and Shirley Kleiman, of Hampstead Garden Suburb, joined guests who travelled from Israel and China.

Leanne met Josh when she joined Manchester University J-Soc at a freshers' fair before moving to London after graduating. The couple had a 'mini-moon' to New York and have settled in Mill Hill East, London.