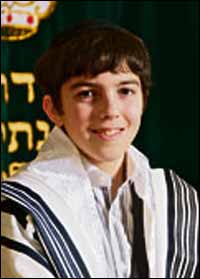 Picture: Howard Gordon
TOP Gear fan Uriel Abeles was in pole position when he celebrated his barmitzvah at the Manchester Great, New and Central Synagogue.
The son of Rebecca and Paul Abeles, of Broughton Park, he was taught his barmitzvah piece by his father.
The King David Yavneh Boys' School pupil is also a fan of computers.
Joining in the celebrations were four-year-old brother Avi, sisters Adina, 11, and two-year-old Dalia, as well as grandparents Jean and Rodney Berman, formerly of Liverpool, and Margi and Leo Abeles.
Guests attended from America and Hong Kong.
---
A net result for Zoe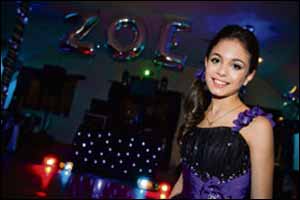 Picture: Robert Clayton

NETBALL fan Zoe Vure got into the swing of things at her batmitzvah party.

The King David High School pupil took part in a batmitzvah ceremony in the summer and followed it this week with her party at Whitefield Golf Club.

The daughter of Ivette and Paul Vure, of Whitefield, Zoe also enjoys socialising and Facebook.

The family moved to Manchester from Leeds four-and-a-half-years ago.

Joining in the celebrations were Zoe's brothers Shai, 26, and 24-year-old Elliot.
---
Dancer Toby is shul star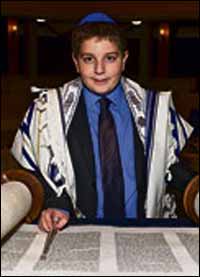 Picture: DAVID COLE

COMPUTER games fan Toby Packter celebrated his barmitzvah at Beth Hamidrash Hagadol Synagogue on Shabbat.

The son of Stephen and Estelle Packter, of Alwoodley, Toby attends Rossett School, Harrogate.

A stalwart Zone member, Toby is currently rehearsing to take part in Dancing Strictly next month.

Grandparents Jackie and Neville Packter, and Carole Clayman attended the simcha.

His aunt, Debra Korenstein, and family friend Ian Scott both travelled from Israel while Lisa Fitter flew in from Florida. Toby's brother, Jacob, 16, attends Rossett and Zoe, 15, is a pupil at Allerton High School.