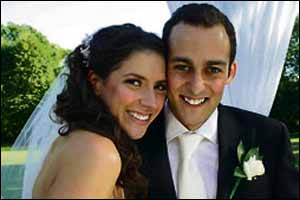 Picture: Pascal Reportage Photography
LANI DAVIES and Jonny Rosenblatt found love in France.
They both spent a year in Lyon as part of their university degrees in the language.
They were married at Sopwell House, Hertfordshire, by Rabbi Anthony Knopf and Rabbi Bentzi Tsudak.
Lani, the daughter of Michelle and Paul Zetter, of London, and Debbie and Howard Davies, of Prestwich, is a primary school teacher, while property developer Jonny is the son of Linda and Harvey Rosenblatt, of London.
Best men were Jonny's brother Mark Rosenblatt and friend Daniel Elton. Maid of honour was the bride's sister Nicki Cohen.
Bridesmaids were the bride's sisters Jordanna Zetter and Natasha Davies and the groom's sister Joanna Vertes, as well as Indeanna Jacobs, Lella Vecht and Emilie Vertes.
Pageboys were Samuel Cohen and Jake Cohen and the groom's cousin NoaH Harris.
Joining in the celebrations were the bride's grandmothers Anita Lister, of Broughton Park, and Myra Davies, of Whitefield.
After a honeymoon in Tanzania and India, the couple have settled in North London.
---
Athletic Ben is golden boy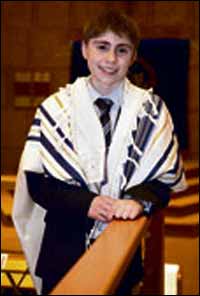 PICTURE: PHIL WHITCOMB

ATHLETIC fiddler Ben Silberstein celebrated his barmitzvah at Etz Chaim Synagogue.

The son of Liane and David Silberstein, of Alwoodley, Ben is a pupil at the Grammar School at Leeds.

A talented cross country runner and violinist, Ben also lists reading among his hobbies.

Grandparents Cynthia and Alan Myerson and Barbara Silberstein, all of Leeds, attended the simcha along with guests from Manchester and London.

Ben's sister Hannah, 15, also attends GSAL.
---
Hannah is all lit up at candle ceremony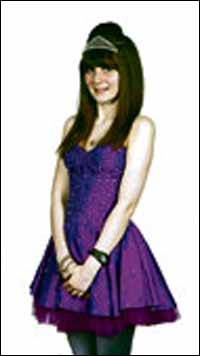 PICTURE: PHIL WHITCOMB

ARTISTIC Hannah Lacy was batmitzvah at Etz Chaim Synagogue on Shabbat.

The daughter of Amanda Shaffner and Karl Lacy, Hannah is a pupil at Allerton High School.

Among her hobbies, Hannah cites music, drama, arts and crafts and socialising with friends as her favourite.

Proud grandparents Pauline and Maurice Taylor, stepbrother Marcus Shaffner, 17, stepsister Tamara Shaffner, 12, and four-month old half-sister Lucy-Mae Lacy joined guests from Manchester and London at the simcha.

Weekend festivities included a Friday night candle-lighting service, Shabbat kiddush and party at the community centre.