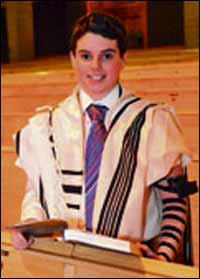 PICTURE: Flix'n'Pix
SAM Berson celebrated his barmitzvah on Shabbat at the Beth Hamidrash Hagadol Synagogue.
The son of Tracey and Julian Berson, of Alwoodley, Sam is a pupil at the Grammar School at Leeds.
His hobbies include computers, movie editing, drama, playing the piano and he is a model railway enthusiast.
Sam has a 14-year-old sister, Sophie, who also attends GSAL.
Grandfather Michael Black and great-grandmother Lila Phillips were among the guests at the simcha. Guests also attended from Israel, London, Newcastle and Edinburgh.