Picture Robert Clayton
MANCHESTER United fan Thomas McGowan was the premier attraction at his barmitzvah at Whitefield Hebrew Congregation.
The King David High School pupil is the son of Sharna McGowan, of Outwood, and Shaun McGowan, of Whitefield. Thomas enjoys football, computers and playing squash.
Joining in the celebrations was grandmother Maureen Orchant, of Whitefield.
---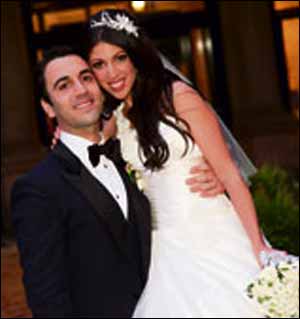 Picture: Stephen Milner
THE north-south divide was bridged at the wedding of Alexa Glynn and Oliver Moradov at the Majestic Hotel, Harrogate.
Alexa, a therapy radiographer at The London Clinic, is the daughter of Doretta and Martin Glynn, of Alwoodley, while Oliver, managing director of a hotel booking agency, is the son of Margaret and Meir Moradov, of Edgware, London.
Bridesmaids were Carolyn Glynn, Eva Glynn, Tamara Moradov, Lydia Gaftarnik and Libby Ross. Best men were Josh Saul and Alex Kaye.
The couple, who met four years ago in London, honeymooned in Thailand and have settled in London.