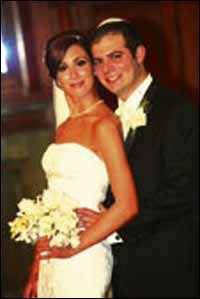 Picture: Stephen Milner
NICOLE LEVY and Nathan Wogman met on a gap year in Israel.
And, a number of years later, they were married at the Midland Hotel, Manchester, by Prestwich Hebrew Congregation's Rabbi Dovid Eisenberg and Heaton Park Hebrew Congregation's Rabbi Daniel Walker.
Nicole, an account manager for a publishing company, is the daughter of Jackie and Anthony Levy, of Prestwich, while commercial property agent Nathan is the son of Tracy and Paul Wogman, of London.
Best men were Sammy Kalms and Jonathan Mammon. Maid of honour was the bride's sister Sara Levy. Bridesmaids were Jessica Ailion and Georgina Cooper.
Joining in the celebrations were the bride's grandmother Brenda Gruber and the groom's grandparents Sheila and Derek Horwood and Marjorie Wogman, as well as guests from Israel and America.
The couple honeymooned in Thailand and have settled in London.