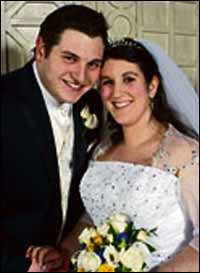 Picture: Victor Shack
Samantha Tigner-Orchudesch had a song in her heart when she married Charles Delroy at Hampstead Synagogue, London.
Musical Samantha utilised her composing skills to surprise everyone, especially Charles, by ending her brief speech with a song, Version of Love, dedicated to her husband at the Hilton Waldorf, Aldwych.
"The lyrics are the story of our meeting and relationship," said Charles. "She composed it in secret, practised with the band a couple of times and on the day performed it."
Charles added: "Samantha studied at the Royal Academy of Music and loves composing. She's currently writing a musical and has composed music for animations.
"We have a running joke, when she starts or finishes a song, I ask is this song for me? This one certainly was and its had hundreds of hits on YouTube."
A copyright and royalties assistant, Samantha is the daughter of Gillian and Tony Tigner-Orchudesch, of London while IT support engineer Charles is the son of Janice and Ian Delroy, of Leeds.
Best men were Jonny Gilmore and Ross Mera-Pirttijarv while bridesmaids included Samantha Delroy, Daniella and Francesca Tigner-Orchudesch, Yael and Roni Apple.
Page boys were Harrison Wolfin and Nathan Samuel, grooms men were Ashley Frieze, Marcus Frieze, Uzi Apple, Michael Joseph and Richard Kaye.
Grandparents, Loretta and Frank Cohen-Solts, Anita and Jackie Delroy and Hedy Orchudesch joined guests at the simcha.
The couple, who met at a J-Soc ball four years ago, honeymooned in Sri Lanka and Maldives. They have settled in Edgware.
To watch Samantha sing Version of Love, visit http://tinyurl.com/dy8haab