MUSIC, sport and table tennis contribute to a perfect family backdrop for Jake Clarke, who was barmitzvah at Harrogate Synagogue.
Jake, the son of Katrina (Katie) and Andy Clarke, hails from Halifax and has a twin sister Samara.
They have four siblings, Sean, 21, Nikki, 17, Reay, 16, and seventeen-year-old Nadia, who has cerebral palsy and is hearing impaired.
Nadia recently won a Winston Churchill Memorial Travel scholarship and is preparing to spend the summer in America.
A classical guitarist, Jake comes from a family steeped in charitable and social causes, His father is a clinical psychologist at Calderdale Hospital while Katie is involved in work for the disabled.
She co-founded and is current chairman of 1Voice, a charity which helps families where a child is reliant on electronic communicational aids, similar to the one used by Stephen Hawking.
For Jake, who attends Ryburn High School in Calderdale, sport is a passion. He excels in tennis and football. A Halifax junior table tennis champion, Jake is also in the finals of the English juniors table tennis championship.
Jake is the grandson of Ann Morris MBE and Philip Morris, who live in Harrogate, where his grandfather is secretary of the shul.
---
Net result for Isabella

NETBALL, rounders and skiing are among the hobbies of Isabella Bennett, who was batmitzvah at Allerton Synagogue.

The Liverpool College pupil is the daughter of Rebecca and Nigel Bennett and granddaughter of Annette and Vaughan Davies and Valerie and Ivor Bennett, all of Liverpool.

Isabella has a sister Daisy, 10, and a six-year-old brother, Jacob.
---
Emma makes it Brad for good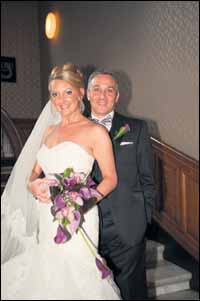 PICTURE: Derek Wells of Sunshine Photography

Emma Hecht and Bradley Chiren were married at Glasgow's Grand Central Hotel.

Emma, the daughter of Karin and Walter Hecht, and Bradley, the son of Evelyn and Ralph Chiren, were married by Rabbi Pete Tobias, the former minister of Glasgow Reform Synagogue.

Emma, 31, is office manager at a private girls' school in Craigholme while 39-year-old Bradley works for a pharmaceutical company.

Best man was Alan Olsson and maids of honour were Francine Chiren and Victoria Edwards.

Emma's grandparents Penny and Carl Edwards were also in attendance.

The couple honeymooned in Cuba and have settled in Newton Mearns.