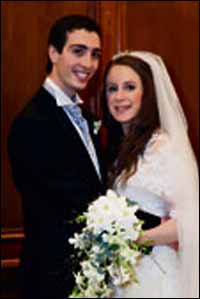 Picture: Bland Video and Photography
FIONA ROSEMARINE and Daniel Gradel graduated in love after meeting at the University of Leeds.
The couple were married at Yeshurun Hebrew Congregation, Gatley, Cheshire, by Rabbi Chaim Kanterovitz.
Fiona is the daughter of Heather and Howard Rosemarine, of Gatley, while Daniel is the son of Susan and David Gradel, of London.
Best man was the groom's brother Jonathan Gradel.
Bridesmaid was Sarah Walfisz and pageboys were Joshua Cohen and Nathan Cohen.
The bride's grandmother Sheila Sussman attended along with guests from Canada and Israel.
After sheva berachot in Leeds and London, the couple have settled in Hong Kong.