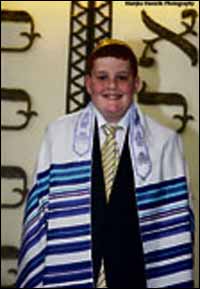 Picture: Danielle Sapherson
COMPUTER buff Nathan Killen celebrated his barmitzvah at Beth Hamidrash Hagadol Synagogue in the midst of the Queen's Jubilee festivities.
The son of Simone and John Killen, of Moortown, Nathan is a pupil at Allerton High School.
As well as enjoying computers and Xbox, Nathan follows the fortunes of Leeds United.
Grandparents Shirley and Alan Brown and Maureen and Geoffrey Killen attended the simcha with guests from Scotland, London and New York.
Nathan's 11-year-old brother Tyler attends Brodetsky Primary School.