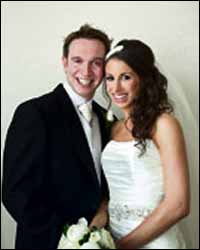 Picture: John Hendry Photography
JADE Shafar and Aaron Selman married at the Glasgow Radisson Hotel.
Jade, the daughter of Paul and Deborah Shafar, of Glasgow, and Aaron, the son of Arthur and Lilah Selman, of Leeds, were married by Giffnock Synagogue minister Rabbi Moshe Rubin.
The couple met when Aaron, who works in HR, was posted to Glasgow, and Jade, a tax specialist, was asked by a mutual friend to show him the sites of the city.
Jade's sister Tahlia was a bridesmaid and Aaron's brother Asher was one of the best men. More than 120 guests from out of town attended the simcha.
The couple, who have settled in Leeds, are honeymooning in Miami and St Lucia.
---
First for Shul in the Park

THE first-ever wedding at Lubavitch Shul In The Park took place this week as David McGraddie married Leslie Goldinger.

And David wore a tallis bearing the Scottish Jewish tartan at the simcha at Newark Care's Burnfield Care Home.

Rabbi Mendel Jacobs conducted the service.
---
Ace theme for big hitter Sam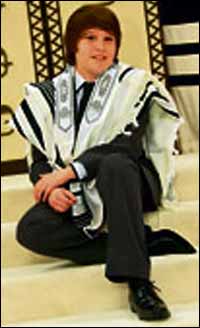 Picture: JONATHAN ISAACS

TENNIS fanatic Sam Addelman, who celebrated his barmitzvah at the Beth Hamidrash Hagadol Synagogue on Shabbat, had a Wimbledon theme to the simcha.

The son of Robert and Ruth Addelman, of Alwoodley, Sam is a pupil at Allerton High School.

He plays tennis for Chapel Allerton U-14 and Allerton School as well as playing the drums and attending scouts.

Proud grandparents Anita and Arthur Gulley together with Phillipa and Barry Addelman joined guests from around the UK and Florida.

Sam has a seven-year-old sister, Evie, who attends Brodetsky Primary School.
---
Cuba honeymoon for happy couple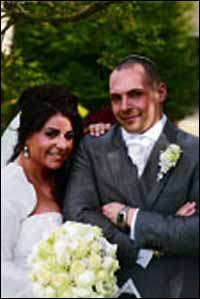 Picture: Warren Shaffer Studios

WHEN Suzanne Sher and Ben Shulkind attended King David High School, they barely knew each other.

But having left school, they met again through friends, began a relationship and married on Sunday at the Dunkenhalgh Hotel, Accrington.

Suzanne, 27, is the daughter of Moira and Les SHER, of Bury, while Ben, also 27, is the son of Adele and Anthony Shulkind, of Prestwich.

Whitefield Hebrew Congregation's Rabbi Jonathan Guttentag officiated.

Suzanne is the manageress of a gym in Stockport while Ben in an accounts assistant.

Suzanne's grandmother Shirley Travis and Ben's grandmother Min Shulkind attended. Guests came from Canada and Israel.

The couple will honeymoon next month in Cuba and have settled in Whitefield.