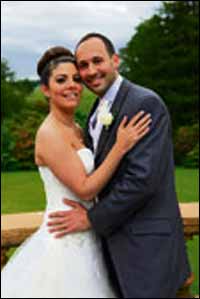 PICTURE: FLIX 'N' PIX
GEMMA Herz and Michael Hirshman planted the seeds of wedded bliss when they met three years ago at a JNF party.
The couple were married at Menorah Synagogue, Cheshire, by Rabbi Douglas Charing.
Gemma, the daughter of Caroline and Nicholas HERZ, of Manchester, works with her father in textiles, while Southport-born Michael, the son of Nives Hirshman and the late David Hirshman, is a company director.
Best man was Michael's brother Sam while bridesmaid was Gemma's twin sister Natalie.
Grandparents Pat and Tony Herz, and Ruth and Ronny Aaron attended the simcha.
Guests came from Los Angeles, Israel and Florida for the special day.
Gemma, 27, and 29-year-old Michael are honeymooning in Croatia and will settle in Prestwich.
---
Hotel setting for wedding

RUTH ALBINSON and Adam Chestock were married at the Radisson Blu Hotel, Manchester Airport, by Yeshurun Hebrew Congregation's Rabbi Chaim Kanterovitz.

Ruth is the daughter of Rita and Harvey Levy, of Prestwich, while Adam is the son of Sue and Neil Chestock, of Hale. Best man was Andrew Matlow.

Maid of honour was the bride's daughter Zoe Albinson.

After a honeymoon in Mauritius, the couple have settled in Prestwich.
---
Sweet Georgia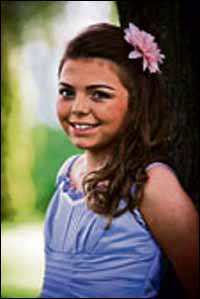 Picture: Robert Clayton

GEORGIA HARRIS celebrated her batmitzvah with an afternoon tea.

The King David High School pupil is the daughter of Amanda and Richard Harris, of Whitefield.

She has two sisters, Melissa and Olivia, and her grandparents are Sandra and Barry Chester and Lillian and Alan Harris.

Georgia was part of the Chabad Whitefield batmitzvah group, which celebrated at the Hilton Suite, in Prestwich.
---
Wedding will be on TV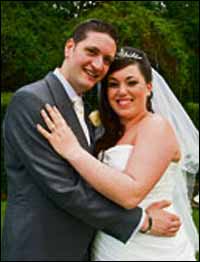 Picture: Alan Angel

WHEN Natalie Taylor and Benjamin Bentley were arranging their wedding, little did they know that the BBC would become involved.

But their wedding day - on Sunday at The Pines, Chorley, Lancashire - will be featured in a new BBC documentary on wedding planners for couples of different faiths.

Alan Shalks fulfils that role at The Pines.

The couple were married by Heaton Park Hebrew Congregation's Rabbi Daniel Walker.

Natalie, a bank customer adviser, is the daughter of Sheree and Mike Taylor, of Unsworth, Bury, while bank assistant manager Benjamin is the son of Philip Bentley, of Crumpsall, Manchester, and Roberta Bentley, of Prestwich, Manchester.

Best men were Lee Bentley and Adam Sher. Bridesmaids were the bride's sister Dani Taylor, the groom's sister Mandy Bentley, Julie Gubbay and Elaine Widdowfield.

Pageboys were the groom's nephews Mackenzie Bentley and Frankie Bentley.

The bride's grandmother Anita Abrahams and the groom's grandmother May Bentley also attended.

Natalie and Benjamin jetted off to Mexico this week and will settle in Whitefield.

It will be screened either late this year or early next.
---
Couple met at LJI event for young professionals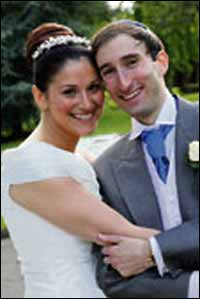 PICTURE: Ian Robinson Photography

LEEDS was united as Harriet Towers and Harvey Eaton celebrated their marriage at the Crown Hotel in Harrogate.

Harriet, the daughter of Anne and Ian Towers, is a physiotherapist at Donisthorpe Hall, while Harvey, the son of Ilana and Michael Eaton, is sales director of an online clothing company.

The couple were married by Rabbi Jason Kleiman and Rabbi Mendel Sufrin, under the auspices of Beth Hamidrash Hagadol Synagogue.

Harvey's grandmother Estelle attended the wedding, along with guests from Israel, America and South Africa.

The former Brodetsky Primary and Allerton High schools pupils met five years ago at an Leeds Jewish Initiative event for young Jewish professionals in Leeds.

Best man was Anthony Hirschstein and maid of honour was Nikki Abrahams. Bridesmaids were Danielle Eaton, Dena Addlestone and Xenia Towers.

After sheva berachot the couple have settled in Leeds.