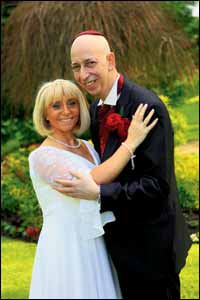 Picture: Flix N Pix
ROCHELLE Frankel and Anthony Gardner were married at the Pines Hotel, Chorley.
Whitefield Hebrew Congregation's Rabbi Jonathan Guttentag officiated.
Maid of honour was Rochelle's daughter Lisa, while Anthony's daughters Carlie and Daniella, along with Rachel Rose, were bridesmaids.
Best man was Harvey Marcus, who came over from Australia.
Chairman was Rochelle's son Zack.
Guests attended from America, including Rochelle's brother David and his family.
The newlyweds honeymooned in Lake Garda, Italy, and have settled in Radcliffe.
---
Daniel is main man

SPORTS fan Daniel Sacks was barmitzvah at the United Hebrew Congregation on Shabbat.

Daniel, 13, attends King David High School in Manchester.

The Scout is a fan of cricket and football and also enjoys computers.

Parents Bev and Andrew Sacks watched on proudly.

And Daniel's two brothers - Rafi, 10, Jamie, six - and eight-year-old sister Evie, who all attend Brodetsky Primary School, joined in the fun.
---
Brooklyn is artistic

Brooklyn Rose Frieze-Smith celebrated her batmitzvah at Etz Chaim Synagogue.

The Grammar School at Leeds pupil is the daughter of Nicola and Craig Frieze-Smith, of Woodlea Park, Leeds.

Brooklyn lists her hobbies as art, writing and reading.

Present at the simcha were grandparents Neil and Lilian Frieze.

Brooklyn has a sister and brother, Courtney, 9, and four-year-old Brent, who both attend Brodetsky Primary School.
---
Married couple had par-fect reception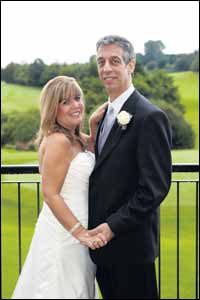 PICTURE: PHIL WITCOMB

IRENE Ableman and Steven Russo married at Etz Chaim Synagogue and celebrated at Moor Allerton Golf Club.

The shul's Rabbi Shalom Kupperman officiated as they tied the knot.

Best man was the groom's brother Ira, who made the journey from America to join the special day.

Irene is the daughter of Shirley Ableman and the late Monty Ableman, while Steven is the son of Thelma and Morris Russo.

Guests travelled from America and Israel.

They honeymooned in Lake Como, Italy, and have settled in Boca Raton, Florida.