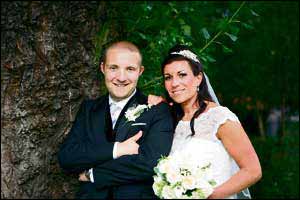 PICTURE: Warren Shaffer
IT was a case of sweet charity for Debbie Sager and Ben Nathan when they met three years ago. The couple fell in love after serving on the same Jewish charity committee.
And they were married at the Hilton Hotel, Manchester, by Manchester Great and New and Central Synagogue's Rabbi Jacob Rubinstein and Dayan Ivan Binstock.
Accountant Debbie is the daughter of Sarah and Harry Sager, of Broughton Park, while property developer Ben is the son of Barbara and John Nathan, of London.
Best men were Ben Winston and Avidan Last. Bridesmaids were the bride's sister Lisa Sager, Leora Kagan, Sophia Kagan, Libby Peston and Millie Webber. Pageboy was Gabi Peston.
Joining the celebrations was the bride's grandmother Rosa Lefton along with guests from Israel and America.
The couple, who have settled in London, spent a few days in Lake Como after the wedding, but will honeymoon fully in the Maldives and Thailand in December.