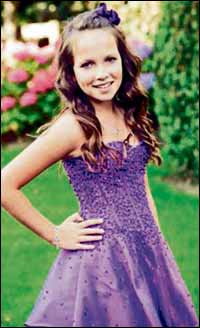 PICTURE: PHIL BARBER
SPORTY Charley Taylor celebrated her batmitzvah at Beth Hamidrash Hagadol on Shabbat.
The Grammar School at Leeds pupil is the daughter of Katie and James Taylor, of Alwoodley.
A keen hockey, netball and tennis player, Charley dances with In2dance Academy and enjoys socialising.
Grandparents Marcia and Andrew Brown and Pamela and Anthony Taylor, all of Leeds, were joined at the simcha by Australian relatives Laura and Jeff Ben-Mayor with sons Coby and Austin.
Other guests flew in from America.
Charley has two brothers, Cameron, 10, who attends GSAL, and Kennedy, 5, who is a pupil at Gateways.
---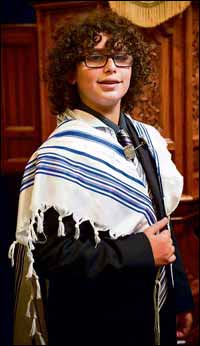 Picture: Howard Barnett
JERUSALEM and Leeds formed the backdrop for the barmitzvah of Ben Myerson.
The multi-talented karate kid read from the Sefer Torah at the Western Wall before a breakfast party in Israel's capital last month.
And Ben's celebrations continued at the United Hebrew Congregation.
The son of Debbie and Nick Myerson, of Alwoodley, attends the Grammar School at Leeds.
A third dan black belt, Ben is a keen golfer, enjoys drama with LJOY and is a member of Bnei Akiva and scouts.
Grandparents Shirley and Arthur Myerson and Linda and Jeffrey Caplan, all of Leeds, were among 50 friends and family to attend the Israeli celebrations.
And they were joined by Ben's great aunt and uncle Minna and Malcolm Harris, who made aliya four decades ago.
Ben's 15-year-old brother Sam also attends GSAL.
---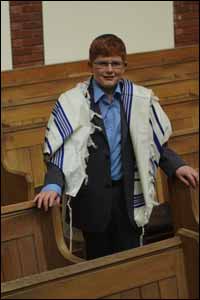 Picture: Van Martin
CYCLING fan Sam Landsman celebrated his barmitzvah at Yeshurun Hebrew Congregation, Cheadle.
Sam, a pupil at Cheadle Hulme School, is the son of Rachel Landsman, of Cheadle. The computer games fan has a 10-year-old sister Hannah.
Joining in the celebrations were grandparents Charmian and Charles Frieze, of Cheadle, as well as guests from France and Israel.
---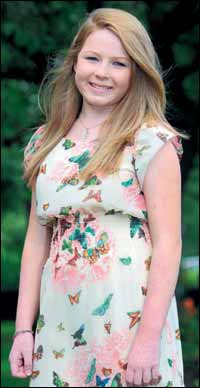 Picture: Steve Bootle
SCUBA diver Lucy Jackson was on the crest of a wave as she celebrated her batmitzvah at Sinai Synagogue on Shabbat.
The daughter of Dave and Carole Jackson, of Alwoodley, Lucy is a pupil at Rossett School, Harrogate.
Lucy has snorkelled in Spain and the Red Sea resort of Sharm el-Sheikh.
Lucy's grandparents, Marion and David Morris and Maureen Stanley, all of Leeds, and Abe Sher, of South Africa, attended the simcha.
Lucy's 23-year-old brother Nicholas is a veterinary student at Nottingham University, while Matthew, 21, studies property investment and finance at Nottingham Trent University.
He flew home from Vietnam during his year placement with property company Savills to complete the family gathering.