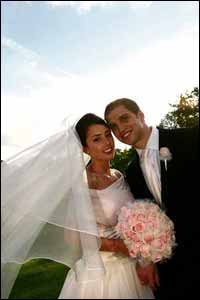 Picture: Warren Shaffer
KATY WEISBERG and Lee Ballen were married on Sunday at Dunham Forest Golf and Country Club, Altrincham, by South Manchester Hebrew Congregation's Rabbi Dovid Lewis.
The couple, who met in London two years ago, both work in recruitment.
Katy is the daughter of Lorraine and Philip Weisberg, of Hale, while Lee is the son of Sue Bluman and Stuart Ballen, both of London.
Best man was Paul Baum. Bridesmaids were the bride's sister Amy Weisberg, Emma Tachauer and Isla Longmuir. Flower girls were Abigail Tachauer and Zoe Tachauer.
Joining in the celebrations were the bride's grandmother Sybil Weisberg, the groom's grandmother Annette Luder and guests from America, Ireland and Canada.
After a honeymoon in Singapore, the couple will settle in London.
---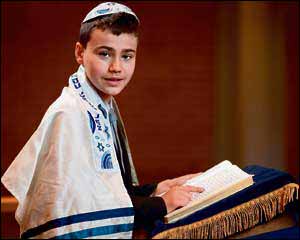 Picture: Jonathan Wolfe
RAP fanatic Joshua Ezra took centre stage for his barmitzvah at Etz Chaim Synagogue on Shabbat.
The son of Deborah and Uri Ezra, of Meanwood, Joshua is a pupil at King David High School, Manchester.
Apart from music, Joshua enjoys football, gaming, 'techy' games, computers and playing with his Jack Russell called Milli.
Grandma Sheila Isaacs, of Leeds, was among guests at the simcha.
---
COMPUTER whizkid Michael Shaw celebrated his barmitzvah at Beth Hamidrash Hagadol Synagogue on Shabbat.
The son of Julie and David Shaw, of Alwoodley, Michael is a pupil at the Grammar School at Leeds.
As well as IT, Michael enjoys playing golf.
Special guests at the simcha were Michael's relations Mottle and Ruth Shaw, from Netanya, Jonny and Debbie Shaw, from Melbourne, Tracey Sharkey and Nate Davis, from Virginia, and Daniel and Melinda Shaw, from London.
Michael's 16-year-old sister, Jennifer, who also attends GSAL, was chairman for the celebrations.