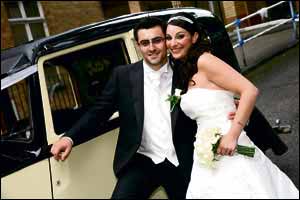 Picture: Stephen Milner
TWO years after being introduced by mutual friends, Nicola Endlar and Daniel Jaysan married at Prestwich Hebrew Congregation.
Nicola, an administration officer for the NHS, is the daughter of Maralyn and Mike Endlar, of Prestwich, while estate agent Daniel is the son of Carol and Jeffrey Jaysan, of Whitefield.
Best man was James Harris. Bridesmaids were the bride's sisters Lecia and Emma Endlar. Pageboy was Cadyn Endlar.
Joining in the celebrations were guests from France.
After a honeymoon in Singapore and Bali, the couple have settled in Prestwich.
---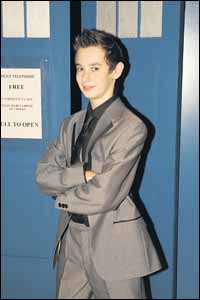 Picture: Phil Witcomb
DOCTOR Who fanatic Ellis Boyd celebrated his barmitzvah at Beth Hamidrash Hagadol Synagogue on Shabbat.
And a full-size Tardis and 'luminous' green meal was a centrepiece during the festivities.
The son of Lisa and Iain Boyd, of Alwoodley, Ellis recently started attending King David High School in Manchester.
A keen swimmer, Ellis enjoys design technology for which he received a prize while at the Grammar School at Leeds prior to switching high schools.
He also enjoys computing and is a Zone member. A scout with 22nd North Leeds (Hillel) troupe, Ellis is following in the footsteps of his grandfather Martin Boyd, who was a cub leader for more than 30 years.
Great-grandmother Pauline Boyd, grandparents Bernice and Martin Boyd and Joan and Roy Williams along with guests from Israel, Bournemouth, Manchester, London and Africa attended the simchah.
Ellis has a nine-year-old sister, Natasha, who attends the Grammar School at Leeds.