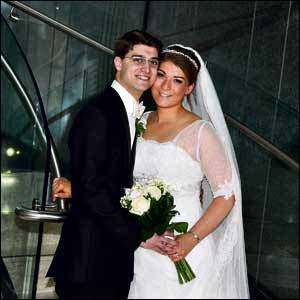 Picture: Ludwig Studios
FIVE years after meeting on a night out in London, Emma Weinberg and Grant Kaye were married at the Hilton Hotel, Manchester, by Bury Hebrew Congregation's Rabbi Binyomin Singer.
Emma, a therapeutic radiographer, is the daughter of Carey and Andrew Weinberg, of Prestwich, while Grant, who works in asset management, is the son of Jane and Harvey Kaye, of London.
Best man was Nick Lee. Bridesmaids were Devorah Moyes and Emily Tobias.
Joining in the celebrations were the bride's grandmother Jean Goldring and grandfather Harold Weinberg, the groom's grandparents Rose and Sydney Lee and guests from America and Israel. The bride's grandfather Hymie Goldring was unable to attend due to ill-health.
The couple will honeymoon in the Maldives in February and have settled in London.
---
SPORTY Daniel Lefton celebrated his barmitzvah at Hale and District Hebrew Synagogue on Shabbat.
And a nice touch during the service came when 83-year-old Ivor Harris and Daniel ascended the bima together as they share the same haftorah from Ki Tzetze, last week's sedra.
Ivor read his portion 70 years ago.
A keen tennis player, Daniel is the son of Wendy and Ivor Lefton, of Hale, Cheshire. Daniel, plays table tennis for Cheadle Hulme School, and also enjoys football and cricket.
Grandparents Patricia and Bernard Groden, of Glasgow, and Cynthia Lefton, of Blackpool, attended the simcha along with guests from London and St Annes.
Daniel's 10-year-old sister Sophie attends Hale Preparatory School.
---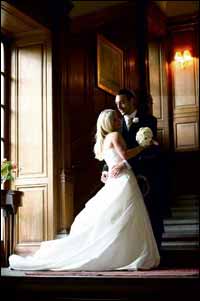 Picture: Hamish Scott-Brown Photography
Chantal Jaffé and Dr Anthony Isaacs were married at Rowallan Castle, Ayrshire, by Giffnock Hebrew Congregation's Rabbi Moshe Reuben.
Primary school teacher Chantal is the daughter of Sharn and David Jaffé, of Kilmaurs, Ayrshire.
Anthony, who is training towards a consultancy in rheumatology, is the son of Agnes and Eddie Isaacs, of Giffnock.
Best men were Elliot Cowan and Adam Hecht. Bridesmaids were Lyndsey Hatfield, Karen Lacey and Lois Rosenthal.
Maid of honour was Jade Statt, while flower girl was Leah Jaffé. Pageboy was Anton Jaffé.
Grandparents Eva Szimir and Abe Isaacs, both of Glasgow, attended the simcha along with guests from Spain, Hungary and England.
The couple had a mini-moon at Gleneagles and have settled in London.
---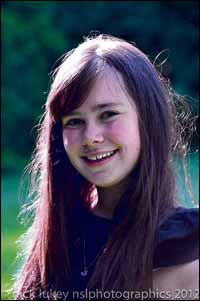 Picture: Nick Lukey
Natasha Boyd celebrated her batmitzvah at Beth Hamidrash Hagadol on Shabbat.
The Manchester King David High School pupil is the daughter of Iain and Lisa Boyd, of Alwoodley.
Natasha, who enjoys acting, art and baking, was awarded the Speedwell Memorial Prize for her contribution to the junior service in shul.
Guest travelled from London and Manchester to the simcha. Natasha's 16-year-old brother Ellis, who also attends King David, celebrated his birthday 24 hours after his sister's big day.