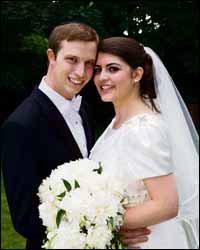 PICTURE: Mark Swinford
A COUPLE who met through Bnei Akiva married at the Old Swan Hotel, Harrogate.
Abigail Saffer and Daniel Bomsztyk are both in their final year of studies at the University of Manchester.
Abigail, who is reading pharmacy, is the daughter of Debbie and David Saffer, of Leeds, while law student Daniel is the son of Sharon and Warren Bomsztyk, of Manchester.
Daniel's brothers Josh and Sammy were joint best men.
Bridesmaids were Abigail's sister Daniella Saffer, who lives in London, together with Sophie Landes, Anna Pearce, Talya Newman and Vered Shayovitz.
Grandparents Valerie and Harold Saffer, from Leeds, and Betty Cyna, of London attended the simcha with guests from Israel, Australia, America and Canada.
The couple are settling in London next year.
---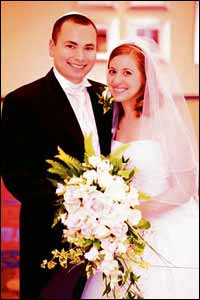 Picture: Team Thomson Photographers
A LOVE potion was definitely concocted when research scientist Dr Deborah Cowen married Jonny Leigh at Newton Mearns Hebrew Congregation.
Deborah, who works in medicinal chemistry, is the daughter of Adrienne and Michael Cowen, of Newton Mearns, while Jonny, a technical architect, is the son of Susie and Robin Leigh, of London.
Best maid was Deborah's sister, Leanne Sobel with bridesmaid Samantha Henry. Best man was Judah Cohen. Pageboy was Ilan Sobel.
Grandma Lily Winetrobe, of Glasgow, joined guests from America, Italy and Israel.
The couple honeymooned in New Zealand and Fiji and have settled in London.
---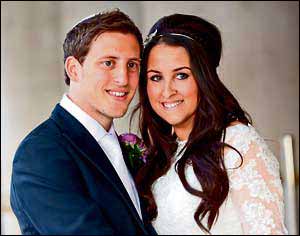 Picture: Kelvin Wakefield
SIX grandparents joined in the wedding celebrations at The Queens Hotel of Rebecca Gilmore and Jonathan Skolnick at Beth Hamidrash Hagadol.
Rebecca, head of year at Michael Sobell Sinai School in London, is the daughter of Lydia Gilmore and Russell Gilmore of Alwoodley, while chartered accountant Jonathan Skolnick is the son of Bernita and Geoffrey Skolnick, also of Alwoodley.
Adam Kristall was best man, bridesmaids were Hannah Gilmore, Hannah Skolnick, Laurie Hirschowitz, Emma and Louisa Caplan together with Leonie, Victoria and Sophie Jackson.
Grandparents Sybil and Martin Gilmore, Maureen Coplin, Jack Coplin, June Jackson and Henry Skolnick joined guests from Israel, Australia, America and Canada at the simcha.
The couple, who met through FZY and studied at Birmingham University, enjoyed a 'mini-moon' in Italy and have settled in London.
---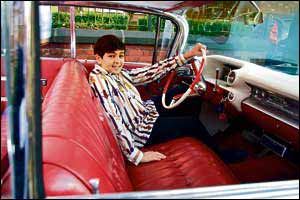 Picture: Howard Gordon
KARL ADELMAN was certainly revved up for his barmitzvah at Whitefield Hebrew Congregation.
The Manchester Grammar School pupil arrived at his dinner and dance at the Hilton Suite, Prestwich, in an American classic car.
Karl, the son of Fran and Ed Horwich, of Prestwich, is a fan of Premier League champions Manchester City and enjoys reading and magic.
Joining in the celebrations were 19-year-old sister Lucy, brother Leo, 17, and grandparents Janice and Merton Firestone.