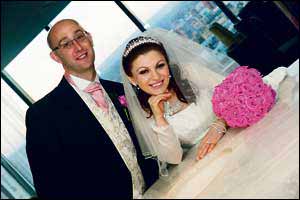 Picture: Van Martin
IT was a case of from Belarus with love when David Cohen married Elana Romanovsky.
The couple met on a Jewish dating website in September last year and they were married at Manchester's Hilton Hotel by Rabbi Warren Elf.
Minsk-born Elana moved to England when she was 17.
David, director of a ladies clothing company, is the son of Nadia Cohen, of Prestwich, and the late Jack Cohen, while biochemical scientist Elana is the daughter of Galina Romanovsky, of Manchester.
Elana's brother Gregory made the trip to Manchester from Minsk for the celebrations, along with guests from Canada and America.
Best men were Daniel Radivan and David Barnett. Bridesmaids were Sophia Radivan, Annabelle Barnett and Mia Goodall. Pageboys were Spencer Barnett and Manny Radivan.
After a honeymoon in Kenya the couple will settle in Bury.