BARMITZVAH at Liverpool Reform Synagogue on Shabbat was David Jonathan Barnett.
He is the son of Dr Rob Barnett, of Calderstones, and the late Lesley Ross, who died when David -known as DJ - was just eight months old.
Present at the simcha were grandmother Dr Lola Barnett, of Woolton, great aunt Renee Golden, from Salford, and family from all over the UK.
DJ has a wide range of interests. The Liverpool fan is goalkeeper for King David High School's five-a-side team and has also represented the school at athletics meetings.
He is on the school council and represents KD on the Liverpool Schools' Parliament. He also enjoys drama and attends classes at the Liverpool Institute For Performing Arts
---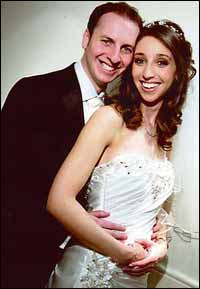 Picture: Ian Robinson
JUDY Stern netted herself a husband when she met Simon Century while playing badminton four years ago.
And the 'raqueteers' were married at the Midland Hotel, Manchester, by Rabbi Emanuel Levy, of the Palmers Green and Southgate Synagogue.
Judy, a project manager for Cadbury, is the daughter of Valerie and Michael Stern, of Whitefield, while corporate financier Simon is the son of Gillian and Jonathan Century, of London.
Best men were Reuben Haber and Neil Taylor. Bridesmaids were Simon's sister Hannah Century, as well as Katie Tyer and Lisa Askenazi.
Joining in the celebrations were the groom's grandmother Selma Manders and the bride's brother Andrew Stern, who made the trip from Sydney with wife Rachel.
Guests also came from Israel, Canada and America.
After a honeymoon in Venice, the couple have settled in London.