MANCHESTER United fanatic SAM YAFFE has seen thousands of games at Old Trafford since 1932.
But ask him for his best match and he will say wife EDNA.
The Broughton Park couple celebrate their diamond wedding anniversary today, after marrying at the New Synagogue on Cheetham Hill Road in 1949.
They first met at Manchester Maccabi in Middleton Road two years earlier. Edna (nee Esner) was a dancer in one of the club's shows, while Sam was working behind the scenes in stage management.
"I was pretty outgoing, but Sammy was quiet and shy," Edna recalled.
The pair began dating and married within two years.
Edna was brought up in the Strangeways district, the daughter of a Polish-born father, Nathan, and Leeds-born mother, Dora. Sam was born to Lithuanian Barnet and Rachel.
A former clothing manufacturer, who retired five years ago, Sam was friendly with former United managers Tommy Docherty and Ron Atkinson.
And his business contacts in Portugal led to him being given three tickets for the 1968 European Cup final at Wembley, when he took sons Howard and Nigel to watch United beat Benfica 4-1.
Edna was a member of the Brookvale Ladies Committee and a local branch of WIZO.
Sam, 85, was secretary of the Cheetham Aid Committee for 48 years.
The couple, who are members of the Manchester Great and New Synagogue (Stenecourt), also have a daughter-in-law, Jackie, and three grandchildren, Jewish Telegraph reporter Simon, Kate and Jordan.
They will celebrate with a party for family and friends on Sunday.
---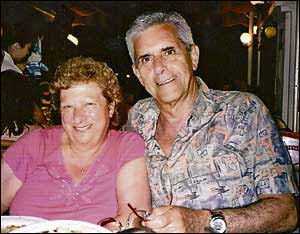 LOVE AND MARRIAGE: Fay and Geoff Eastman
The secret of a successful marriage is all about team work, give and take and mutual understanding, according to golden couple Fay and Geoff Eastman.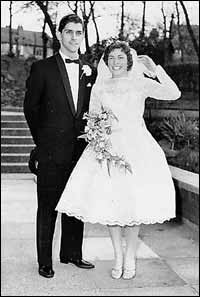 HAPPILY MARRIED: Geoff and Fay Eastman on their wedding day 50 years ago

Married on October 28, 1959, at the Beth Hamidrash Hagadol Synagogue in Newton Road, they have four daughters and nine grand children.

Geoff, who has been an honorary officer of the BHH for the past 18 years and the shul's immediate past president, said: "Fay (nee Jacobs) and I share many interests; my in-depth involvement with the BHH has brought her into helping with the BHH ladies guild.

"Our hobbies are different though, which gives us both that little bit of extra space we need. Fay enjoys her weekly aerobics sessions and I have a weekly pursuit to improve my failing snooker skills."

Fay has also been active in raising funds for cancer research for 35 years and many years ago Geoff was also involved.

Geoff was also prominent in the Leeds Jewish scouting movement. As an eight-year-old he joined the cubs of the 7th Central Leeds Scouts (now the 22nd North Leeds Hillel Cubs and Scouts).

Some years later he moved into the scouts, ultimately becoming troop leader and in 1955 was chosen to represent the UK at the World Scout Jamboree at Niagara Falls.

"That was the first time a Jewish scout represented the UK outside Europe," said Geoff.

Geoff and Fay met at the Judean Club when Geoff was just 15.

"The Judean Club was, without doubt, the nerve centre for Jewish youth in Leeds, the place where you just had to be. I was the members' chairman for a period. Inevitably it was likely that one would meet one's potential future partner there, as did so many of our contemporaries," he said.

Fay and Geoff will be celebrating in shul tomorrow and have planned an evening party at home for family and friends.
---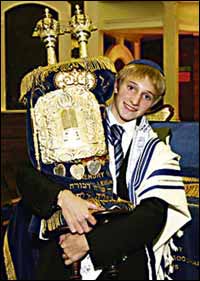 Picture: Phil Witcomb
DANIEL Drazen was barmitzvah at the United Hebrew Congregation on Shabbat.
The son of Val Berwin and Philip Drazen, Daniel of Alwoodley is a pupil at the Grammar School at Leeds.
A keen golfer, in his spare time Daniel enjoys playing the piano.
Grandfather Maurice Drazen and grandparents Margaret and Bernard Ward joined in the celebrations along with guests from New York, Birmingham, London and St Annes.
Daniel has a sister, Sophie, aged 15, who also attends the Grammar School at Leeds.