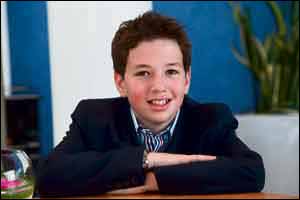 Picture: Adrian Pope
CHARLIE HARRIS was certainly in tune when he celebrated his barmitzvah at Hale and District Hebrew Congregation.
The son of Julia and Daniel Harris, of Hale, Charlie is a keen singer and also plays the guitar.
And the Manchester Grammar School pupil wowed guests at his dinner and dance by performing Robbie Williams' Let Me Entertain You with the band.
Charlie also enjoys drama - he is a member of south Manchester's Stage 80 - and karate.
Joining in the celebrations were brother Sam, 10, and grandparents Susan and David Harris, of Liverpool, and Madeleine and David Cope-Thompson.
---
MULTI talented sportsman Ross Goldsborough was barmitzvah at Beth Hamidrash Hagadol Synagogue on Shabbat.
The son of Jacqui and Philip Goldsborough of Alwoodley, Ross is a pupil at The Moorlands School, representing them at rugby, cricket and football.
He also plays cricket for Old Leos and football for Leeds City Boys and Wigton Moor FC, and plays drums for rock band UVL.
Great grandmother Rhoda Black, grandparents Sue and Howard Barry and Judith and David Goldsborough along with Philip's brother, Adam Williams, wife Genevieve and son Zane, who travelled from Kampala, Uganda, attended the simcha.
Other guests came from Northern Ireland and London along with Philip's oldest friend, Lewis Vann, his wife Beth and son Judah who travelled from San Diego, California.
Ross has a sister, Mia, 10, who also attends The Moorlands School.
---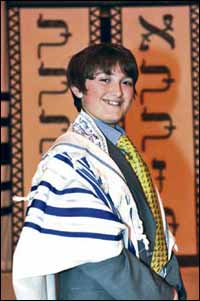 Picture: Andrea Barrett
TALENTED musician Freddie Morris was barmitzvah at Beth Hamidrash Hagadol Synagogue last month.
Younger son of Debra and Jeffrey MORRIS of East Keswick, Freddie is a pupil at the Grammar School at Leeds.
His sister, Leah, is a graphic designer and brother, Joshua, is studying business at Regent College, London.
Aside from playing acoustic and electric guitar, Freddie also plays drums and enjoys golf.
Grandparents Estelle and Arnold Morris, and Beryl Harrison joined guests from London and Manchester.
---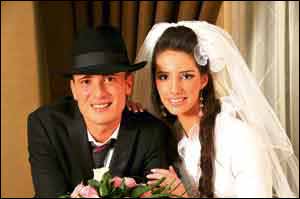 Picture: Howard Gordon
SALFORD couple Ryan Parker and Brochi Adam were married by Rabbi Menachem Mendel Schneebalg, of the Machzikei Hadass.
Brochi, who works for Torah Tots, in Prestwich, is the daughter of Carole and William Adam, of Salford, while Ryan is the son of Helen and Barry Parker, also of Salford.
The bride's grandmother, Pauline Ackstein, joined in the celebrations, as did the groom's grandfather, Jack Parker.
After sheva berachot in Manchester, the couple have settled in Salford.