A SUMMER placement in accountancy firm Ernst Young provided an added bonus for Glaswegian Adam Gordon when he met fellow trainee Romy Katzeff, from London.
The introduction led to Adam, son of Blanche and Derek Gordon, and Romy, daughter of Linda and Grant Katzeff, marrying this summer in the Landmark Hotel, London.
Among those present were Adam's grandparents Ilene and Ivor Gordon and Milly Gurevitz, as well as more than 80 guests from South Africa, the USA and Israel.
The couple, who are members of Norrice Lea Synagogue, Hamptstead Garden Suburb, have just returned from three months travelling in South America and are setting up home in North West London.
Both are now qualified chartered accountants and still work for Ernst Young.
---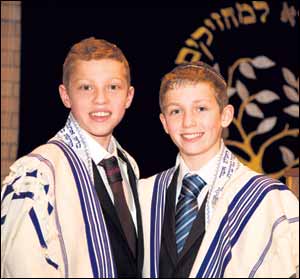 AT THE DOUBLE: Sam, left, and Louis Klineberg
SPORTY twins Louis and Sam Klineberg celebrated their barmitzvot at Etz Chaim Synagogue last Shabbat.
Sons of Madeleine and Anthony Klineberg, both attend Allerton High School.
When it comes to sport the brothers play rugby and are fans of Super League champions Leeds Rhinos. They also enjoy golf and most sports.
Grandparents Carole and Michael Taylor, and Barbara and Jack Klineberg, attended the simcha along with their aunt from Florida, Lisa Fitter, and her children Talia and Josh.
Louis and Sam have an elder sister.