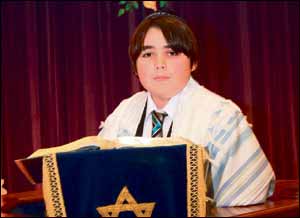 PICTURE: SIMON SOLTS
FAMILY and friends of Matthew Samuel braved heavy snow to attend his barmitzvah at United Hebrew Congregation on Shabbat.
The son of Debra and Philip Samuel, of Moortown, Matthew also celebrated his barmitzvah the previous weekend in grandmother Gloria Murray's shul in Walthamstow, London.
Matthew's other grandmother, Betty Samuel, of Leeds, attended the 'Yorkshire' simcha alongside travelling guests from London, Manchester, Colchester and Toulouse in France.
Unfortunately, two guests from Ohio failed to arrive due to heavy snow.
A Leeds United supporter, the Grammar School at Leeds pupil plays the electric guitar and squash.
Matthew has a 10-year old brother, Dominic, at Brodestsky Primary School.
---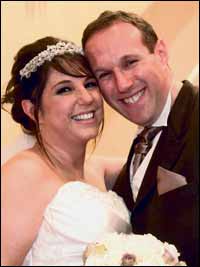 PICTURE: HOWARD CORNEY
LINZIE SLATER was taught a lesson in love when she married deputy headteacher Simon Barr.
Rabbi Chananya Silverman married the couple, who met through a Jewish dating website, at the Watford Hilton.
Linzie, a PA, is the daughter of Florrie and Lawrie Slater, of Kenton, London, while Simon is the son of Joan and Alan Barr, of Prestwich.
Best man was Phil Greenberg.
Bridesmaids were Charlotte Lisberg and Jodie Slater.
The couple have settled in Borehamwood, Hertfordshire.