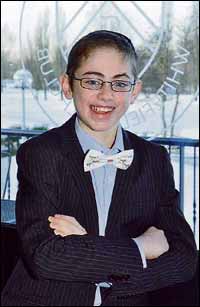 Picture: Ludwig Studios
SNOOKER fan Jake Yardley was right on cue at his barmitzvah at Prestwich Hebrew Congregation.
Jake, the son of Tracey and Bernard Yardley, of Broughton Park, is a pupil at Manchester Mesivta.
Joining in the celebrations were brother, Saul, 14, and grandparents Maureen and Elliot Yardley and Elaine and Eric Marks. Guests also attended from France and Israel.
As well as playing and watching snooker, Jake also plays the tenor horn.
---
DAREDEVIL Phoebe Libbish celebrated her batmitzvah at Sinai Synagogue on Shabbat.
An avid white knuckle ride fan, Phoebe is the eldest child of Vicky and Simon Libbish of Alwoodley.
A keen guide, Phoebe is a pupil at Allerton High School. She loves socialising and knocks in goals for Leeds Amazones U-13 football team.
Guests attended from Manchester and London.
Phoebe is pictured above with her brother Noah, seven, who attends Brodetsky Primary School.