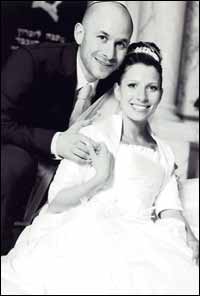 Picture: Ian Robinson
LUCKY Jonny Lewis certainly caught the eye of marketing manager Amanda Shonn when they first met three-and-a-half years ago.
The couple were married at the Sha'are Hayim Synagogue, Didsbury, by Rabbi Shlomo Ellituv.
Jonny, a property consultant, is the son of Helen and Michael Lewis, of Prestwich, while Amanda is the daughter of Debra and Anthony Estrin, of Whitefield, and Marsha and Steven Shonn, of Leeds.
Best man was Antony Kintish.
Bridesmaids were Olivia Lewis, Lulu Yaffe, Ella Estrin and Georgia Estrin. Pageboys were Zac Summerfield, Josh Summerfield, Taylor Chevin, Eddie Shonn, Rafi Levy, Zack Lee and Aaron Lee.
Joining in the celebrations was the bride's grandmother Joyce Haldane, the groom's grandmother Thelma Lewis and the bride's auntie Zoe Levy, who flew in from America, and great-auntie Rosette Jabez, who came from Israel.
After a honeymoon in Malaysia, the couple have settled in Whitefield.