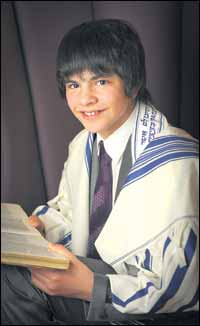 PICTURE: HOWARD BARNETT
RUGBY prodigy Simon Phillips is barmitzvah at Beth Hamidrash Hagadol Synagogue on Shabbat.
The son of Robert and Elissa Phillips (formerly of Dublin), Simon, of Shadwell, is a pupil at the Grammar School at Leeds.
Robert plays rugby for Central Yorkshire, the GSAL and Otley. He is also a keen cross country runner and enjoys swimming.
He plays the saxophone, sails and is a member of the scouts
Joining the simcha from Dublin were grandmother Adele Woolfson together with uncles and aunts.
Guests also travelled from New York, Hong Kong, Malaysia, Germany, Wicklow, Kilkenny, Manchester, London and Cardiff.
Robert has a younger brother, Adam, nine, who attends Froebelian School, Horsforth.
---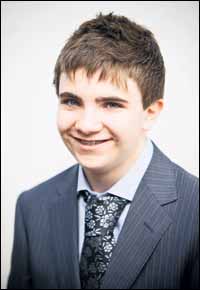 PICTURE: OLIVIA BRABBS
PHOTOGRAPHY
SPORTS fan Daniel Moore was barmitzvah at Etz Chaim Synagogue on Shabbat.
Daniel, son of Colin and Suzanne Moore, of Alwoodley, attends Allerton High School.
Daniel also enjoys music and comedy.
Grandparents Anne and Cyril Goldstone attended the simcha. Daniel, has a younger brother, Joe, 10 who attends Brodetsky Primary School.
---
MORRIS and Jaqueline Hart celebrate their golden wedding anniversary on Tuesday.

The couple, who both grew up in Glasgow, met through Jaqueline's brother Joe, who was a friend of Morris's, and the pair were married in Giffnock Synagogue in 1960.

Rabbi Rubenstein officiated at the service and the reception was held at The Marlborough in Shawlands.

They have three children - Beverley, Paul and Julie - and four grandchildren.