SPORTY musician Leonie Brill celebrated her batmitzvah at Beth Hamidrash Hagadol Synagogue last Shabbat.
The only child of Tracey and Philip Brill, of Moortown, Leonie is a pupil at Allerton High School.
Among her hobbies, Leonie enjoys singing, plays the piano, netball and likes to socialise.
Grandparents Carol and Harvey Kleiman and Albert Brill were among guests who attended from France, London, Manchester and Milton Keynes.
---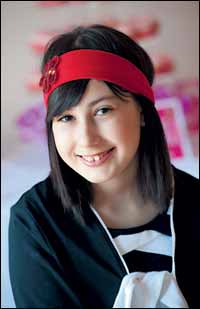 PICTURE: HOWARD BARNETT
MULTI-talented Antonia Dante was batmitzvah at the United Hebrew Congregation on Shabbat.
The daughter of Katie and Philip Dante of Alwoodley, Katie attends King David High School in Manchester.
Katie enjoys horse riding, dancing, singing, writing and chatting with friends.
Relatives present included Grandma Bun, (Cynthia) Dante, and Pat and Raymond Gerstein, Jean and Ralf Eisen together with aunts, uncles and cousins from London.
Antonia cites her brother, Marcus, 14, who also attends King David High School, as her best buddy.