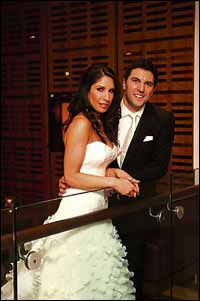 Picture: Contre Jour
Alicia Lindsay and Jonny Cohen married almost two years after being introduced by friends.
The ceremony was conducted by Rabbi Shlomo Ellituv at the Sha'are Hayim Sephardi Congregation, Didsbury.
Alicia, who works in property, is the daughter of Carole and Milton Lindsay, of Winchmore Hill, London, while lawyer Jonny is the son of Laurence and Barbara Cohen, of Cheadle.
Best man was the groom's brother David. Bridesmaids were Aimee Cohen, Lola Lindsay, Talia Gee, Meghan Keizner and Lois Keizner. Pageboy was Rafi Saleem.
The groom's grandfather Usher Cohen joined in the celebrations, as did guests from America, France, Israel and Australia. After a honeymoon in the Maldives, the couple have settled in London.