ASPIRING artist Zach Fineman celebrated his barmitzvah at Newton Mearns Shul recently.
Former Calderwood Lodge pupil Zach, the son of Jeffrey and Francine Fineman, now attends Mearns Castle High School.
As well as being an accomplished art student, he loves sport - especially football - and is an avid Manchester United supporter. He also enjoys playing on his computer and watching films.
Helping Zach celebrate were brother Daryl, 19, sister Candice, 16, grandparents Toby and Sydney Fineman and Sally and Harold Groundman and relatives and friends from Los Angeles, Vancouver, Israel and England.
---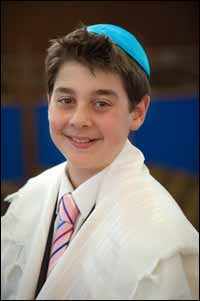 PICTURE: Howard Barnett
SPORTY Samuel Lewis celebrated his barmitzvah at the United Hebrew Congregation lon Shabbat.
The son of Karen and Matthew Lewis, of Roundhay, Samuel attends the Grammar School at Leeds.
Among his hobbies Samuel cites football, tennis and reading as his favourites.
Grandparents Doreen and Peter Myers, from Leeds, Robert and Rosalynde Lewis, of London, together with great grandparents Anne and Wolfe Green, of Leeds, and Edith Brozel, from Southend, joined guests from Manchester, Bristol, London and Israel at the simcha.
Siblings Noah, 11, and Ruby, 8, both attend Brodetsky Primary School.
---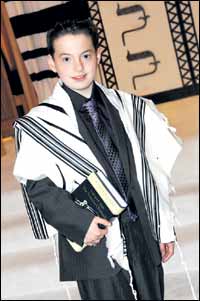 PICTURE: Flix 'n' Pix
ALL ROUND sportsman Sam Tobias celebrated his barmitzvah at Beth Hamidrash Hagadol Synagogue on Shabbat.
The son of Jane and Robert Tobias, Sam is a pupil at Moorlands School.
A football, rugby and table tennis fan, Sam also enjoys computers.
Grandparents Barbara and Rodney Wells and Joyce Tobias attended the simcha.
Sam's six-year-old brother Harry is a pupil at Brodetsky Primary School.