LEANNE WHITE was given a surprise after marrying SAUL KOWALSKI in the first wedding at Manchester Maccabi on Sunday.
Leanne was presented with the rounders section's players' player of the year trophy by Maccabi's Steph Wilks.
The happy couple chose the venue as Leanne is a long-standing member of Manchester Maccabi, playing for the rounders and netball teams.
She said: "We checked out a couple of venues, but it was definitely the most suitable one."
Leanne and Saul first met 18 years ago and their friendship soon turned into romance.
They were married by Bury Hebrew Congregation's Rabbi Binyomin Singer. Leanne, the daughter of Shelly White and Elliot White, both of Prestwich, is a service manager, while Wales-born Saul is a self-employed chef. Best man was Baruch Leder of Israel.
Maids of honour were the bride's sister Belinda White and Louisa Abrahams. Pageboys were their sons Kane, 12, and Aaron, 6.
---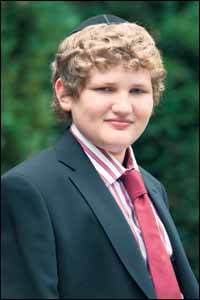 PICTURE: HOWARD BARNETT
SOUTH AFRICA was the theme as Jonathan Gross celebrated his barmitzvah at Etz Chaim Synagogue last Shabbat.
Sporty Jonathan is the son of Vicky and Paul Gross, who hail from South Africa.
Grammar School at Leeds pupil Jonathan enjoys tennis, martial arts, football, rugby and cricket.
Grandparents Gwen and Mickey Gross were among relatives from South Africa and Australia who joined guests at the simcha.
Jonathan has a brother, Daniel, who also attends the Grammar School at Leeds.