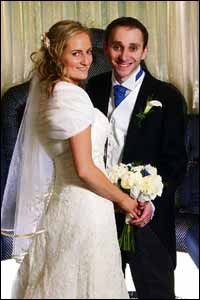 Picture: Howard Gordon
THE odds on Mark Saunders and Sharna Kagan falling in love were good when they first met at a Jewish halls of residents for young professionals in north London in 2006.
And four years later, Mark - who works for betting firm William Hill - married charity co-ordinator Sharna at The Pines, Chorley. Rabbi Yonatan Golomb officiated.
Mark is the son of Paula and Henry Saunders, of Unsworth, while Sharna is the daughter of Miranda and Hammy Kagan, of Cape Town, South Africa.
Best man was the groom's brother Lee. Bridesmaids were Ronit Kagan, Lauren Aronson, Pippa Bloom, Natalie Angel and Jodie Klapisch.
Guests joined in the celebrations from South Africa, Israel, Canada and Spain.
After a honeymoon in Tel Aviv, the couple have settled in Hendon, London.