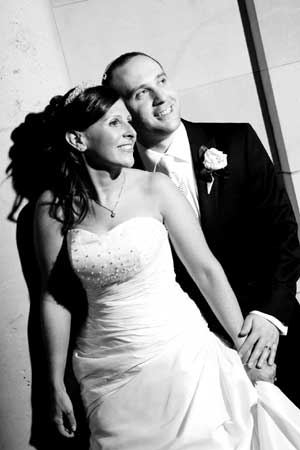 PICTURE: Sovereign Photography
LUCKY number 13 worked its magic for SIMONE MIRELMAN and HADLEY COHEN, who became engaged 13 months after meeting on J-Date.
The couple were married at Great Portland Street Synagogue, London, by Rabbi David Lister.
Simone, of Edgware, is a fundraising executive for the Movement for Reform Judaism, while Hadley, of Whitefield, is an equity research analyst.
Best men were the groom's brother ALEX and friend JULIAN LARAH. Bridesmaids were NICOLA SPITAL, LAUREN RUSSELL and AMELIE MADEN while pageboys were NOAH MADEN and BOBBY VAIZMAN. Guests travelled from Israel and America.
Also present were grandparents FAYE COHEN, MARLENE and GEOFFREY RUSSELL and LYN MIRELMAN.
After a short holiday in Marrakesh, the couple, who have settled in Friern Barnet, London, hope to honeymoon in India later this year.
---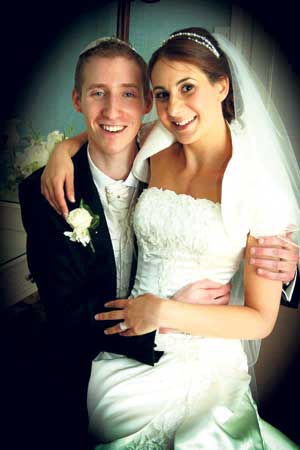 Picture: Adrian Hughes Photography
EIGHT years after meeting at an FZY party VICTORIA SIMON and ROBERT TAUB have tied the knot at Princes Road Synagogue.
Robert, of Stanmore, London, is a project manager for a fundraising organisation, while Victoria, of Woolton, is a speech and language therapist.
The groom's brother CRAIG was best man and bridesmaids were Victoria's university friends EMMA SHIFFMAN and LIRON GREENBERG, and cousins EMMA, JESSICA and SOPHIE SIMON.
Proud parents SUSAN and JONATHAN SIMON and PAM and LEN TAUB were present as were the bride and groom's grandmothers LILIAN SIMON and SHIRLEY TAUB.
Guests from Israel travelled to Liverpool for the wedding celebrations. After honeymooning in Malaysia the couple have settled in Edgware, London.