Richard Elton returned from a holiday in Spain three years ago with more than just a tan.
He returned with a new girlfriend, Jocelyne Boorman.
And the couple have now been married at the Tower Hotel, London, by Rabbi Aryeh Sufrin in front of proud parents Marie and Gary Boorman and Ruth Elton.
Jocelyne, of Ilford, Essex, works in charity marketing while Richard, originally of Calderstones, Liverpool, is a chartered surveyor. His father is the late Nigel Elton.
Best men were JOSHUA NEVITT, BEN GANDZ, ADAM HECHT and RICHARD LIVINGSTON.
Bridesmaids were the bride's sister FRANCOISE AMSELLI, sister-in-law VIKKI KREBS, and friends LUCY KINN and MELISSA GOLDBERG.
Jocelyne's nephew DANIEL AMSELLI was a page boy and her niece RACHEL AMSELLI was a flower girl.
Guests from Israel, France, America and Ireland travelled to London to join in the celebration.
The couple have settled in Salford.
---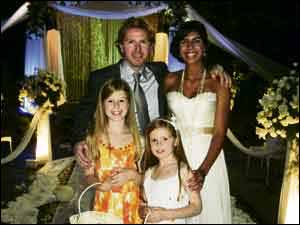 FLORAL TREAT: David Brown and Orit Achlakian with flower girls Bethany and Madeleine Nesbitt
DAVID BROWN and ORIT ACHLAKIAN tied the knot at a ceremony in The Garden of Roses, Rishon Lezion, Israel.
The couple, who first met when they were both visiting New Zealand, were joined in Israel by proud parents EVELYN and IAIN BROWN, of Glasgow, and MITRA and YAKOV ACHLAKIAN, of Israel.
David's sister, PAMELA NESBITT, was also present. David, an IT programmer, and Orit, an human resources adviser, were married by Rabbi Amos Tairi.
Calderwood Lodge School pupils BETHANY and MADELEINE NESBITT were flowergirls, while EYAL KATZ was the groom's best man.
Family and friends from Glasgow, Edinburgh, Manchester and London as well as Israel joined in with the celebrations.
The couple have settled in Tel Aviv's Florentine district