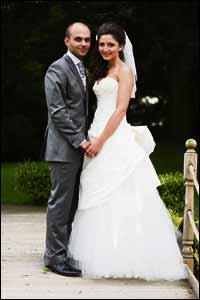 Picture: Jez Dickson
THE drinks were on Karen Graham and Richard Bloom after they married - almost five years after meeting in a bar at a mutual friend's birthday.
The couple were wed at the Double Tree by Hilton, Chester, by Heaton Park Hebrew Congregation's Rabbi Daniel Walker.
Karen, an advertising agency art director, is the daughter of Irene and Bernie Graham, of Sunnybank, while Richard, an associate director at a recruitment consultancy, is the son of Claudia and David Bloom, of London.
Best men were the groom's brother Danny Bloom and Adam GolDin.
Bridesmaids were the bride's sister Nicola Graham, Sherry Marks, Debbie Sherman and Hannah Linder. Flower girls were Daisy Marks and Mya Shilco.
Joining the groom's grandparents Shirley and Norman Sheinholtz in the celebrations were guests from Israel, America and Australia.
After a honeymoon in Hong Kong and Bali the couple have settled in north London.
---
MULTI-talented Sarah Winetrobe celebrated her batmitzvah at the Etz Chaim Synagogue, Leeds, on Shabbat.
Sarah, who presented her Dvar Torah at the Leeds Jewish Community Centre, is the daughter of Jean and Richard Winetrobe, of Alwoodley.
Sarah, who attends Allerton High School, Leeds, enjoys creative writing, music and films.
Her grandfather, Berl Winetrobe, from Largs, Scotland, along with aunts, uncles and cousins from Glasgow and Leeds were among guests at the simcha.
Sarah has a 13-year-old sister, Michelle, who also attends Allerton High School.
---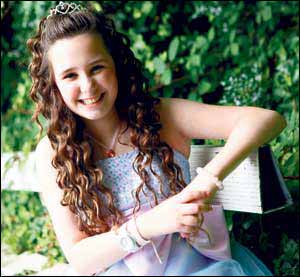 Picture: Flix 'n' Pix
DRAMA fan Jessica Baskind celebrated her batmitzvah at Etz Chaim Synagogue.
The daughter of Claire and Stephen Baskind, of Alwoodley, Jessica, who cites drama as her favourite hobby, attends King David High School in Manchester.
Grandparents Lena and Malcolm Shedlow and Brenda and Ronnie Baskind together with great grandparents Beattie and Eric Newman attended the simcha along with guests from Manchester, London and Bournemouth.
Jessica has a nine-year-old brother, Ross, who is a pupil at Brodetsky Primary School.
---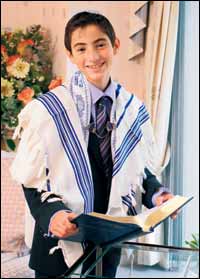 Picture: Ken Heaney
OLIVER Sapier was barmitzvah at the United Hebrew Congregation on Shabbat.
The Grammar School at Leeds pupil is the son of Tracy and Jonathan Sapier, of Alwoodley.
Among Oliver's hobbies are table tennis, skateboarding, scouts and playing the guitar.
Visiting guests at the simcha were family from Manchester and London.
Oliver's brother, Daniel, is hoping to work with Magen Dovid Adom during a gap year after graduating in anatomical sciences.
And he has two sisters, Charlotte, 19, who is studying physiotherapy at Birmingham University and Ashleigh, 15, who also attends the GSAL.