A YEAR after meeting at a party, Catherine Berg and Mark Kober were married at Tatton Park, Cheshire, by Yeshurun Hebrew Congregation's Rabbi Chaim Kanterovitz.
Solicitor Catherine is the daughter of Marilyn and Jonathan Berg, of Cheadle, while surveyor Mark is the son of Barbara and Jonathan Kober, of Bushey, Hertfordshire.
Best man was Steven Fifer. Bridesmaids were Lizzie Berg, Dalia Zucker and Laura Spits. Pageboys were Will Blain and James Blain.
After a honeymoon in Italy, the couple have settled in north London.
---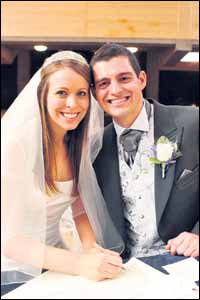 PICTURE: ANDREA BARRETT
ALEXANDRA Lee and Colin Abrahams celebrated their wedding at Harewood House following a chuppah at Beth Hamidrash Hagadol Synagogue.
Seven years after meeting at a New Year's Eve party, the newly-hitched couple are settling in Leeds following a honeymoon in Israel.
Alexandra, an account manager at Procter and Gamble, is the daughter of Linda and Martin Lee, of Leeds, and Colin, a company director of family business Arlington, is the son of Jackie and Barry Abrahams, also of Leeds.
Grandparents Thelma and Joe Lee, Adrienne and Louis Harris, Valerie Abrahams and Renee Shaw joined guests from Australia, America, Israel and Holland at the simcha.
Best man was Ben Bechar, bridesmaids were Simone and Jo Lee, Nikki Abrahams, Avital and Arielle Baskind, Louise Braverman and Olivia Harris. Page boys were Zack Braverman and Daniel Harris.