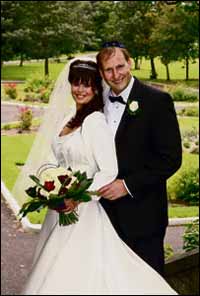 Picture: Modern Weddings
HAPPY couple Beverly Joseph and Steven Cohen married at the Sha'arei Shalom Reform Congregation, Whitefield.
The twosome, who met in a club in May 2009, were married by Rabbi Norman Zalud.
Beverley, the daughter of Irvin and Eunice Joseph, of Sunnybank, is a childminder, while Steven, the son of Leslie and Shirley Cohen, is a driving instructor. Best man was Mark Glassman.
Bridesmaids were Beverley's daughter Emma, Steven's daughter Lauren and Jessica Borkin.
After a honeymoon in Mexico the couple have settled in Whitefield.